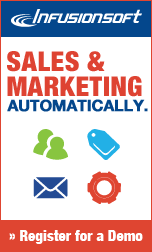 [wpaudio url="http://mikeveny.com/wp-content/uploads/2011/10/Infusionsoft.mp3″ text="My Secret Weapon" autoplay="1″]
There are many great tools that can automate your marketing tasks, but nothing compares to Infusionsoft (affiliate link). Here are 5 reasons why Infusionsoft (affiliate link) can be a life saver for singer-songwriters, bands, and independent artists:
Sell your music directly – The e-commerce platform will give you the tools necessary to sell your music as mp3's and control downloads. In addition, you can sell your merchandise. When someone is about to buy one of your products or your music, you can set up an automated action to show them a special sale item. You can also create your own coupon codes, manage inventory, and bump people to specific mailing lists based on what they buy.
Email newsletter – Have you signed up for my newsletter? If not, please do so now (it's on the right hand side). Once you receive the newsletter, you will see why Infusionsoft is so amazing. It has a simple drag & drop template builder and the ability to create automated actions on links. For example if you click a link in my email newsletter about learning drums, it will automatically bump you to my drum student email list and send you an email about a drum lesson course.
Promote your shows – You can schedule emails leading up to a show. Like an email newsletter, you can create automated actions on links. For example, if someone clicks the a link to learn more about an upcoming show, it can automatically send them an email about a special 48 hour discount special on tickets. Those discount tickets will be sold directly through the e-commerce platform.
Organize fans – After you get your first training, you will learn that you must have 3 types of marketing campaigns for fans: a "New Fan" Campaign, a "New Customer" Campaign, & a "Long-Term Nurture" Campaign for people who don't become fans or customers, but are still interested in you.
Education – Did I mention that Infusionsoft trains you to use the software so you can get it up-and-running quickly? In addition they offer free weekly webinars on a variety of marketing subjects. Most importantly, if you have an issue, technical support will work hard to resolve it fast.